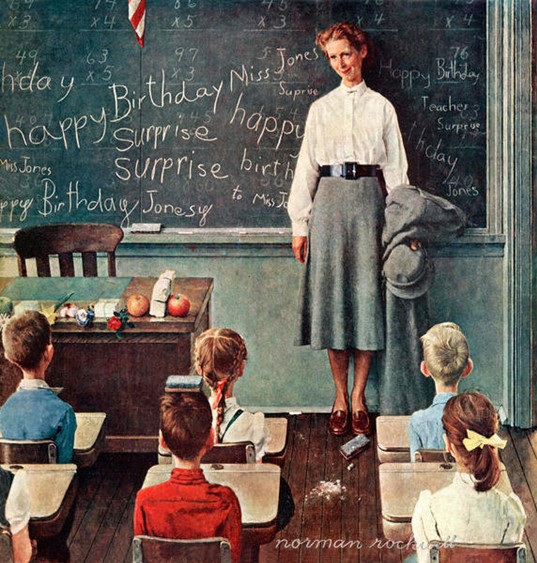 On the 5th of October, we celebrate World Teachers' Day, by acknowledging the critical role teachers play in achieving inclusive, quality education for all… and recognizing that during the pandemic …teachers have shown, as they have done so often, great leadership and innovation in ensuring that #LearningNeverStops, that no learner is left behind. Around the world, they have worked individually and collectively to find solutions and create new learning environments for their students to allow education to continue… I would like to celebrate World Teachers' Day with a Poem, The School Where I Studied, by Yehuda Amichai, and a Painting, Happy Birthday Miss Jones by Norman Rockwell. https://en.unesco.org/commemorations/worldteachersday
I passed by the school where I studied as a boy / and said in my heart: here I learned certain things / and didn't learn others. All my life I have loved in vain / the things I didn't learn. I am filled with knowledge, / I know all about the flowering of the tree of knowledge, / the shape of its leaves, the function of its root system, its pests and parasites. / I'm an expert on the botany of good and evil, / I'm still studying it, I'll go on studying till the day die. / I stood near the school building and looked in. This is the room / where we sat and learned. The windows of a classroom always open / to the future, but in our innocence we thought it was only landscape / we were seeing from the window. / The schoolyard was narrow, paved with large stones. / I remember the brief tumult of the two of us / near the rickety steps, the tumult / that was the beginning of a first great love. / Now it outlives us, as if in a museum, / like everything else in Jerusalem.https://www.poetryfoundation.org/poetrymagazine/poems/40662/the-school-where-i-studied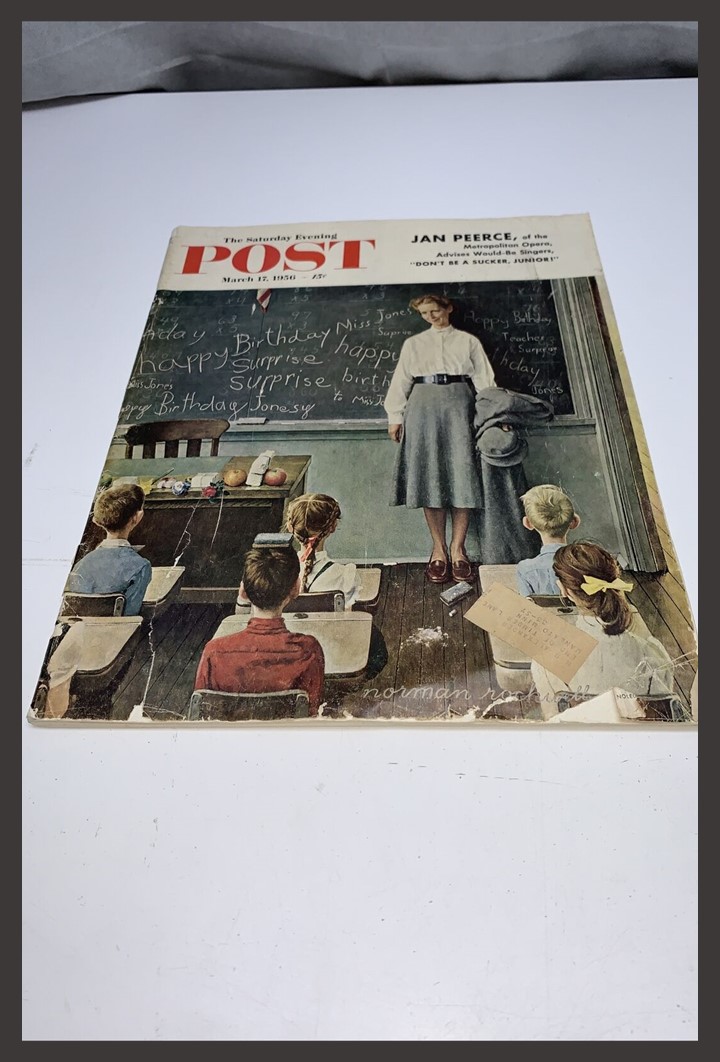 On the 17th of March 1956, The Saturday Evening Post published Happy Birthday Miss Jones, one of my favourite Norman Rockwell paintings. The artist had a long-standing collaboration with The Saturday Evening Post, which he considered to be the greatest show window in America. The collaboration started in 1916 when the 22-year-old Rockwell painted his first cover for the magazine and continued over the next 47 years. By 1963, when the collaboration with the Post ended, 322 Rockwell paintings had appeared on the cover of the magazine. https://www.nrm.org/about/about-2/about-norman-rockwell/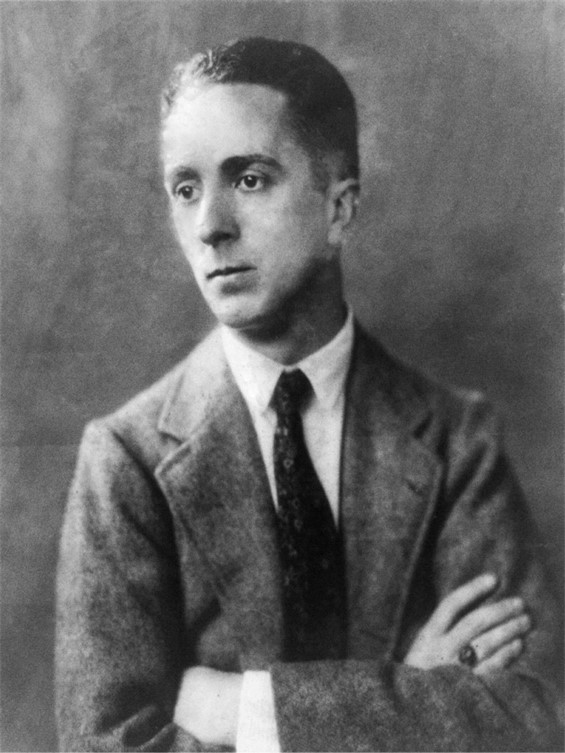 I would like to draw your attention to page 82 of Picturing America, and how masterfully the controversy over Rockwell the artist, or Rockwell the illustrator, is addressed… Rockwell had been born into a world in which painters crossed easily from the commercial world to that of the gallery, as Winslow Homer had done. By the 1940s, however, a division had emerged between the fine arts and the work for hire that Rockwell produced. The detailed, homespun images he employed to reach a mass audience were not appealing to an art community that now lionized intellectual and abstract works. But Rockwell knew his strengths did not lie in that direction: "Boys batting flies on vacant lots," he explained in 1936, "little girls playing jacks on the front steps; old men plodding home at twilight, umbrella in hand — all these things arouse feeling in me." https://picturingamerica.neh.gov/downloads/pdfs/Resource_Guide/English/English_PA_TeachersGuide.pdf
In 1956 his feelings motivated him to pay tribute to his own 8th Grade teacher who had encouraged him to draw. Using a real Elementary School classroom in his hometown, Stockbridge, as his reference, and local models, Rockwell painted Happy Birthday Miss Jones to popular praise. The composition is highly organized, the colour tones are warm (even the greys), and the light is soft. This is a familiar scene we have all experienced, a moment we cherish, and a Norman Rockwell painting we love!
The original oil on canvas painting is part of the collection of filmmaker George Lucas and was on display at the Smithsonian's Museum of American Art in 2010. A pencil on joined paper study of the painting, also owned by Lucas, was also on display alongside the original painting. http://www.best-norman-rockwell-art.com/1956-happy-birthday-miss-jones.html#ixzz73lTatp76
It's worth watching! …a Video on Rockwell's painting of Miss Jones created by the Saturday Evening Post, on May 22, 2019… https://www.saturdayeveningpost.com/2019/05/rockwell-video-minute-happy-birthday-miss-jones/
For a Student Activity, please … Check HERE!