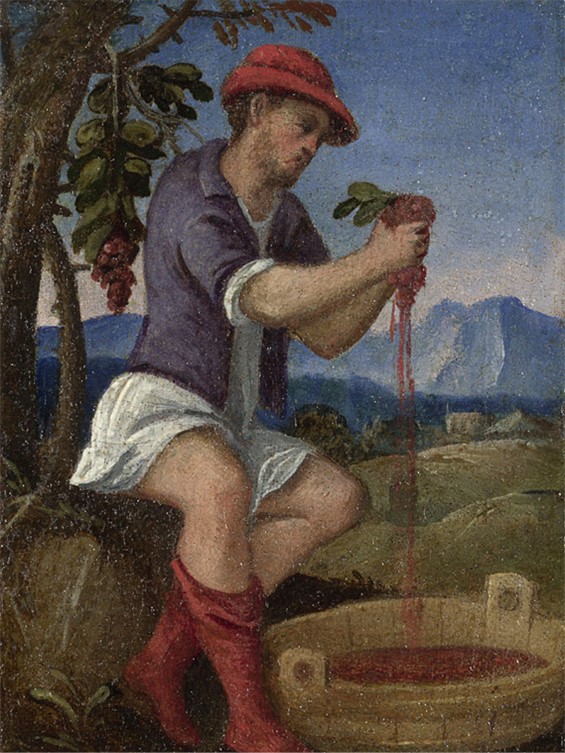 Another smell of autumn / sweet sweet smell / of Concord grapes / warming ripening/ ready to burst with flavor / strong urgent smell / lured me closer/ spreading outward /from the makeshift arbor / a plume twenty feet wide / enticing, coaxing / me to linger /luxuriate in its aroma smile at the memory / of other pickings / long ago / Sweet fruit / high above me, / out of reach up in the canopy / formed by wire and bush… lovely and short, by Raymond Foss, a lawyer from New Hampshire who writes poetry in his spare time… a wonderful introduction for my new BLOG POST on The Labours of the Months: September. https://cindydyer.wordpress.com/2007/08/01/harvesting-grapes-812007/
A man in the National Gallery painting sits beneath a tree inform us the Renaissance experts in the London Museum, through which a vine has been trained. A large bunch of red grapes hangs from a leafy stem. He uses both hands to squeeze the juice from another bunch into a wooden vat on the ground at his feet. The grape juice will be turned into wine and possibly stored in the barrel we see being made in an earlier scene. This is a fitting scene for any painting depicting the Labours of the Months and particularly the scene representing September. https://www.nationalgallery.org.uk/paintings/italian-venetian-the-labours-of-the-months-september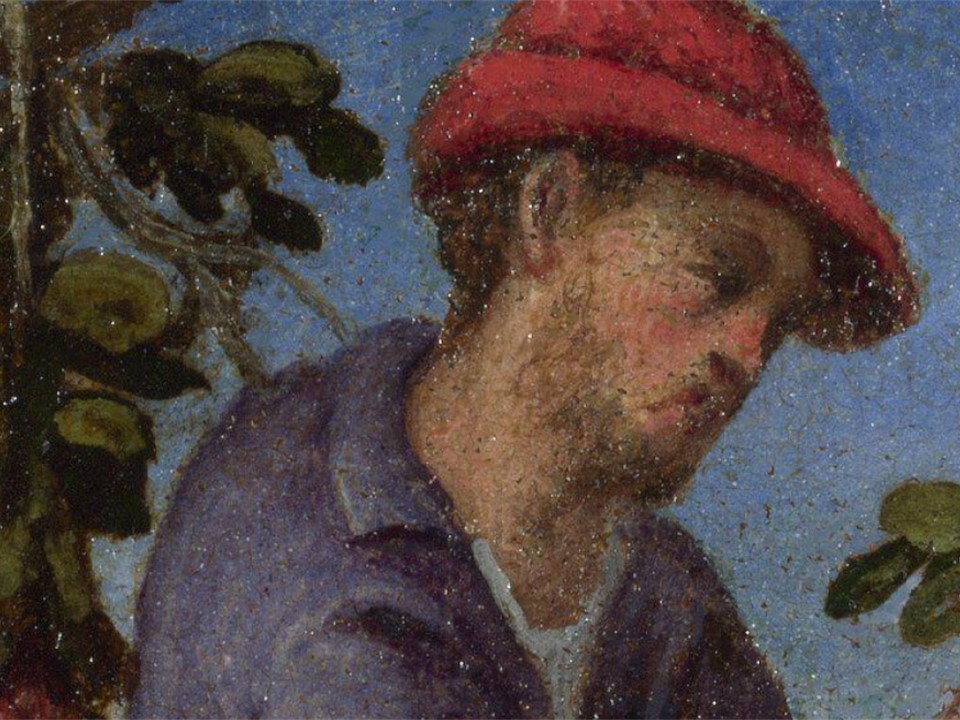 Europeans of the Renaissance period created, in various Art media, Calendars of specific religious events celebrated every month of the year. These Calendars were often embellished with scenes of seasonal, agricultural activities and popular scenes of the life of the elite courtiers as well. These iconographic scenes are traditionally called the 'Labours of the Months'. They can be seen in manuscripts like Psalters, Breviaries, and Books of Hours, sculptural decorations of Cathedrals, and like in the case we explore this year, a set of decorated doors for a Venetian Palazzo. Their artistic rendering and content varies depending on the date, location, and purpose of each artwork
A typical Calendar depicting agricultural Activities present, often but not always, scenes of Feasting for January, Sitting by the fire for February, Pruning trees or digging for March, Planting and enjoying the country or picking flowers for April, Hawking and courtly love for May, Hay harvest for June, Wheat harvest for July, Wheat threshing for August, Grape Harvest for September, Ploughing or sowing for October, Gathering acorns for pigs for November and Killing pigs or baking for December.
The small painting in London presenting September as a man squeezing the juice from a bunch of grapes is part of a special set of Renaissance painted Doors. The unknown artist who created this painting used vivid, bright, luxurious colours, like reds, blues, white and green. He combined simplicity in execution and extravagance in visual effect, creating a charming decorative effect.
For a PowerPoint on the painting under focus at the National Gallery in London, please… Check HERE!