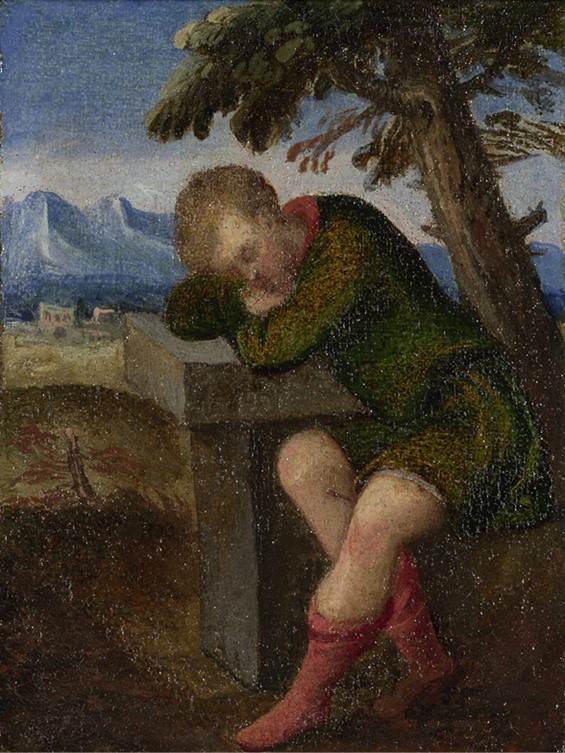 The quiet August noon has come; / A slumberous silence fills the sky; / The winds are still, the trees are dumb, / In glassy sleep the waters lie / And mark yon soft white clouds that rest / Above our vale, a moveless throng; / The cattle on the mountain's breast / Enjoy the grateful shadow long / Oh, how unlike those merry hours, / In early June, when Earth laughs out, / When the fresh winds make love to flowers, / And woodlands sing and waters shout / When in the grass sweet voices talk, / And strains of tiny music swell / From every moss-cup of the rock, / From every nameless blossom's bell. / But now a joy too deep for sound, / A peace no other season knows, / Hushes the heavens and wraps the ground, / The blessing of supreme repose. / Away! I will not be, to-day, / The only slave of toil and care, / Away from desk and dust! away! / I'll be as idle as the air… wrote William Cullen Bryant and I thought of the tired man in the National Gallery panel of The Labours of the Months: August. https://www.lieder.net/lieder/get_text.html?TextId=24951
The quiet August noon has come; / A slumberous silence fills the sky; / The winds are still, the trees are dumb, / In glassy sleep the waters lie / And mark yon soft white clouds that rest / Above our vale, a moveless throng; / The cattle on the mountain's breast / Enjoy the grateful shadow long / Oh, how unlike those merry hours, / In early June, when Earth laughs out, / When the fresh winds make love to flowers, / And woodlands sing and waters shout / When in the grass sweet voices talk, / And strains of tiny music swell / From every moss-cup of the rock, / From every nameless blossom's bell. / But now a joy too deep for sound, / A peace no other season knows, / Hushes the heavens and wraps the ground, / The blessing of supreme repose. / Away! I will not be, to-day, / The only slave of toil and care, / Away from desk and dust! away! / I'll be as idle as the air… wrote William Cullen Bryant and I thought of the tired man in the National Gallery panel of The Labours of the Months: August. https://www.lieder.net/lieder/get_text.html?TextId=24951
The Cycle of the Twelve Months is a favourite theme in the arts of the Middle Ages and the Renaissance. Often linked to the signs of the Zodiac, the Cycle of the Months is often perceived as a link between the work of man, the seasons of the year, and God's ordering of the Universe. As a theme, it recurred in the sculptural decoration of cathedrals and churches across Europe, in illuminated manuscripts like the popular Books of Hours, palace frescoes, and rarely, panel painting.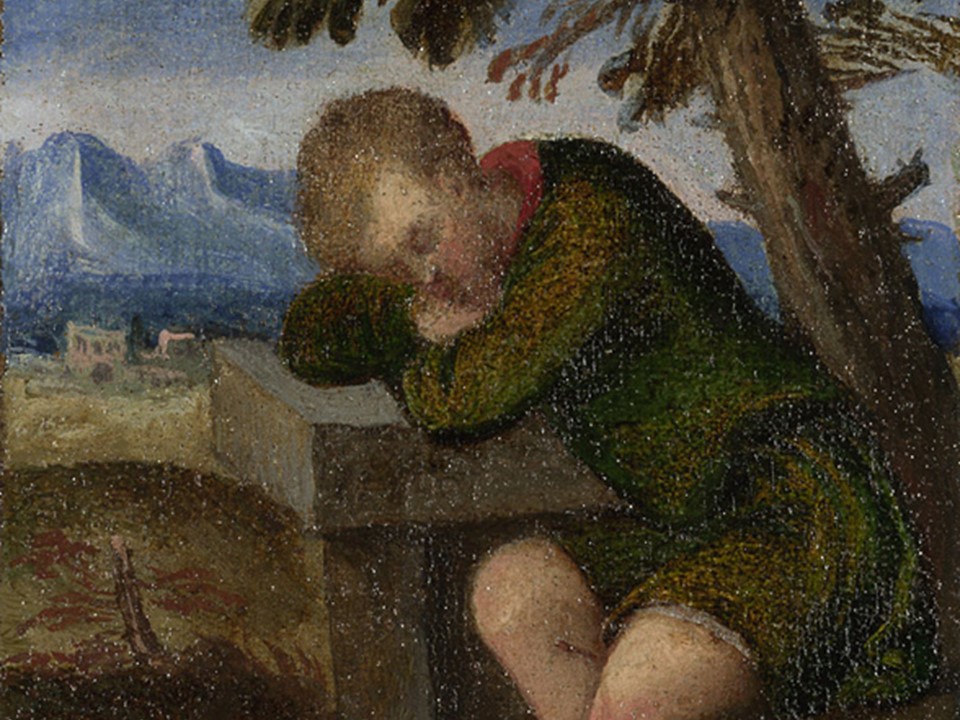 The small panel paintings in the National Gallery are rare and special. They document life in the Veneto area, with the peasant activities and duties to their land. They also depict a vivid landscape, romanticized even then, from bare and covered with snow, to rich and fertile, to autumnal, covered with fallen leaves. The twelve small panels in London were part of a set of painted Venetian Doors. They combine simplicity in execution and extravagance in visual effect! The paintings, very small in size, about 13.6 x 10.6 cm, were achieved in vivid, bright, luxurious colours, like "ultramarine blue for the sky, strong vermilion and red lake for the clothing, with rich greens and yellows in the landscape. The restricted and repeated use of colour gives the group of little pictures a charming, decorative simplicity. All but one of the scenes show a man working outdoors on what appears to be the estate of a large villa, seen in several of the paintings, at the foot of the distant blue mountains." https://www.nationalgallery.org.uk/paintings/italian-venetian-the-labours-of-the-months-january#painting-group-info
The National Gallery experts believe that the labourer in this scene, which may represent August, is so exhausted that he has fallen asleep. He sits beside a tree, his head resting on his crossed arms, his elbows on a stone bench, his eyes shut. Perhaps he has been picking grapes or fruit. https://www.nationalgallery.org.uk/paintings/italian-venetian-the-labours-of-the-months-august
For a PowerPoint on The Labours of the Months at the National Gallery in London, please… Check HERE!