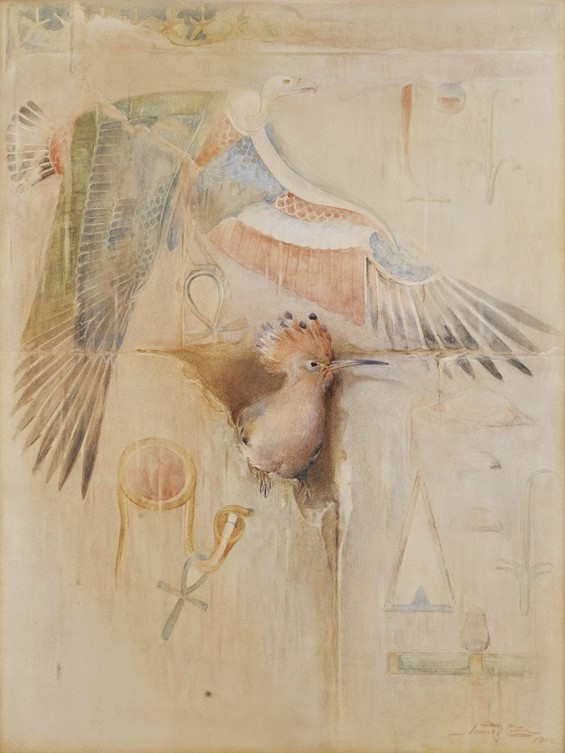 "…as my eyes grew accustomed to the light, details of the room within emerged slowly from the mist, strange animals, statues, and gold – everywhere the glint of gold. For the moment – an eternity it must have seemed to the others standing by – I was struck dumb with amazement, and when Lord Carnarvon, unable to stand the suspense any longer, inquired anxiously, 'Can you see anything?' it was all I could do to get out the words, 'Yes, wonderful things." This is how Howard Carter, the famous archaeologist, describes his discovery in 1922 of the Tomb of Tutankhamen. In my new BLOG POST, I want to introduce Watercolours by Howard Carter… his first steps on Egyptian Archaeology.
Could the Statue of the Goddess Sakhmet at the MET in New York be responsible for Howard Carter's love for Egyptology? Well… According to THE HISTORY BLOG, young Carter was a frequent visitor to Didlington Hall, the estate William Amhurst Daniel-Tyssen, a patron of the accomplished artist and illustrator Samuel John Carter, Howard's artist father, visited on several occasions on painting commissions. Didlington Hall is where the young Carter, home-schooled and trained in the arts by his father, first became exposed to Egyptology.
"Amherst was an avid collector of Egyptian antiquities. He, his wife Margaret Mitford (whose father had a passion for all things Egyptian as well) and their seven daughters traveled frequently to Egypt, constantly acquiring new artefacts. A whole wing of Didlington Hall was dedicated to housing his vast collection. Seven statues of the lion-headed warrior goddess Sekhmet guarded the door of the museum, one for each of the Amherst daughters. …The Amherst family didn't just give Howard Carter the chance to explore Egyptian art through their extensive collection. It was their recommendations and contacts that secured him his first job in Egypt. He was just 17 years old when he was hired as a tracer — someone who copies inscriptions and artwork found in excavations onto paper for later study — for the Egyptian Exploration Fund (EEF) in 1891. This was an essential job in the age before colour photography. Watercolours were the only accurate recreations of tomb decorations available." http://www.thehistoryblog.com/archives/33258
Young Carter distinguished himself as a tracer for his artistic abilities, dedication and diligence. In 1891, hired by the Egypt Exploration Fund (EEF), Carter assisted an Amherst family friend, Percy Newberry, in the excavation and recording of Middle Kingdom tombs at Beni Hasan. His Watercolours are accurate, innovative and charming.
Carter' first steps to field "archaeology were taken on his next assignment at El-Amarna under pioneering Egyptologist Flinders Petrie in 1892. He was still an artist, recording artefacts as they were discovered, but Petrie allowed him to dig too, and Carter made some significant finds." From 1894 to 1899, he worked with Édouard Naville at Deir el-Bahari, where he recorded the wall reliefs in the temple of Hatshepsut, joined in the excavation process of the temple and learned restoration techniques as well. Watercolours by Howard Carter of the Deir el-Bahari period are among his finest, as he frequently stated that "When reproducing an ancient art, let us, by all means, be accurate, and employ every kind of mechanical aid to obtain that objective; but let that mechanical aid be our assistant, not our master."
In 1899, Carter was "appointed Inspector of Monuments for Upper Egypt in the Egyptian Antiquities Service (EAS), and …supervised the systematic exploration of the valley of the Kings by the American archaeologist Theodore Davis." His successful career, however, came to a halt because of a violent confrontation between Egyptian site guards, under Carter's permission, and a group of aggressive French tourists. Carter resigned his position and for the next years "had something of a hard scrabble existence. He sold his watercolours or guided tours to make a living." In 1907 "he hit the jackpot. French Egyptologist Gaston Maspero, Director of the Egyptian Antiquities Service who had given Carter the Chief Inspector General job, introduced him to George Herbert, 5th Earl of Carnarvon. Carnarvon had deep pockets and was keen to fund archaeological excavations. He got the necessary licenses and made Carter the Supervisor of Excavations in Thebes." The rest is history… http://www.thehistoryblog.com/archives/33258 and https://en.wikipedia.org/wiki/Howard_Carter
The student Activity on Watercolours by Howard Carter is inspired by the work on The Middle Kingdom Tombs at Deir el-Bersha, the Reconstruction of tomb wall-scenes using watercolours from the Griffith Institute Archive and the Tomb of Djehutihotep in particular, please… Click HERE!