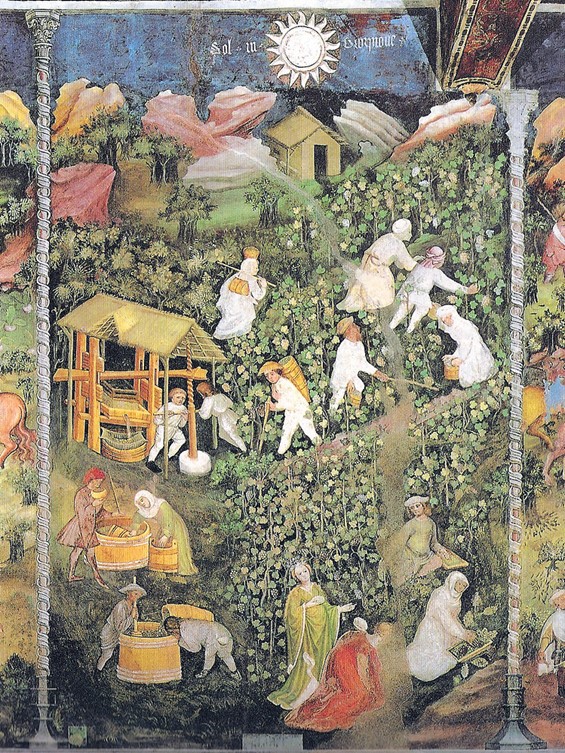 I'm not sure everyone has understood, October, / your great beauty: / in those fat vats, as large as a full stomach, / you brew must and inebriation, you brew must and inebriation. / On my mountains, like mournful birds, / mad clouds flee, / on my copper-tinged mountains / low clouds raise like smoke, low clouds raise like smoke. – Oh days, oh months that run away endlessly, / my life is always similar to you, / different every year, yet the same every year, / a hand of tarot cards one never learns to play, / one never learns to play… writes for The Month of October Francesco Guccini in his Canzone dei dodici mesi. https://lyricstranslate.com/el/canzone-dei-dodici-mesi-song-twelve-months.html
The Month of October fresco comes from Torre Aquila in the Castello del Buonconsiglio in Trento, Italy. It is part of an amazing fresco Cycle of the Twelve Months painted on the walls of the tower's 2nd-floor main room and presents autumn at its best. This exceptional room, 6 x 5,8 x 3 m in size, was commissioned by Prince-Bishop George of Liechtenstein, as a quiet, atmospheric retreat, away from the rest of the Castello's busy and noisy state quarters. Master Wenceslas, a Bohemian painter active in Trento since 1397, creates a rich October scene, full of natural beauty and pastoral activities. There is no doubt that Prince-Bishop George of Liechtenstein, looking at the October scene, was tasting his top-quality Trentino wine as well!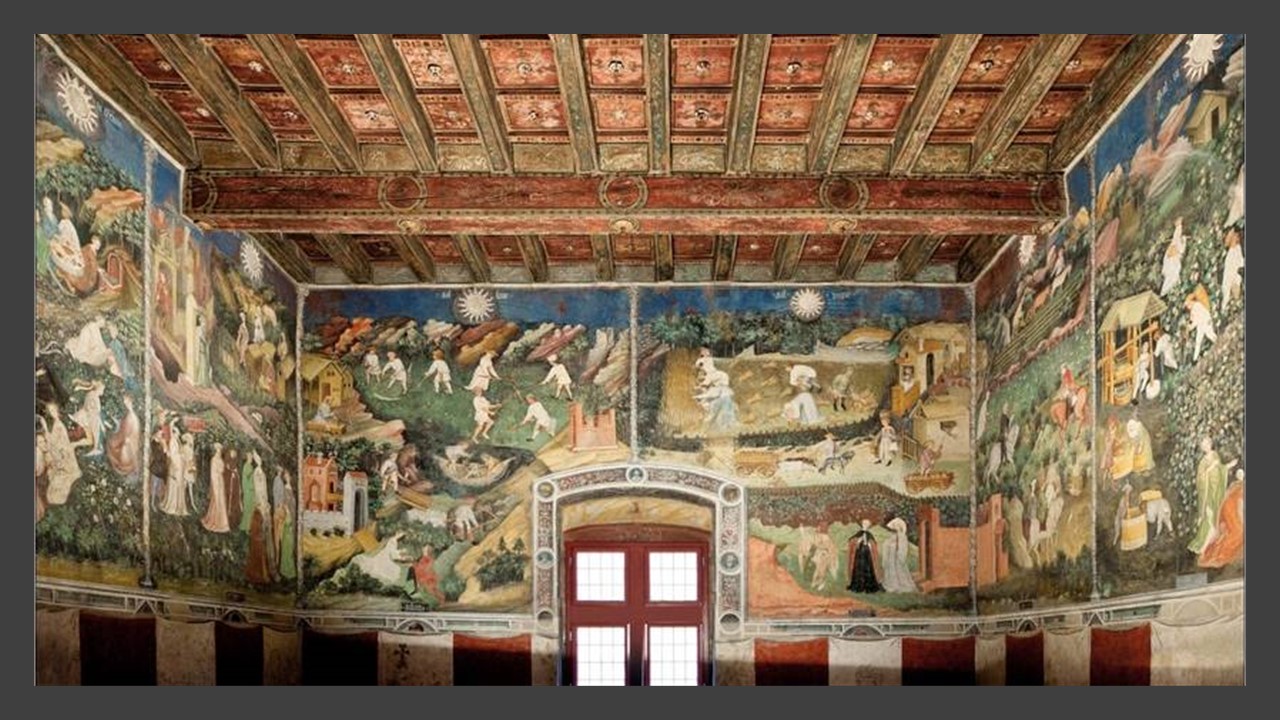 October is a busy month for farmers in Trento and Master Wenceslas is documenting it in the best possible way. The scene is rich, dense and joyful… inspired by real-life but immensely beautified. The commissioner of this fresco, Prince-Bishop George of Liechtenstein wants to present the idea that his territories flourish under his good governance and prudent guidance. The painter, Master Wenceslas, understood this very well, and created an autumn scene of dazzling green colours, verve and dynamism!
The Month of October Torre Aquila scene is dedicated to wine making, from the very beginning of the process, picking up the grapes, to pressing, grape must preparation and tasting…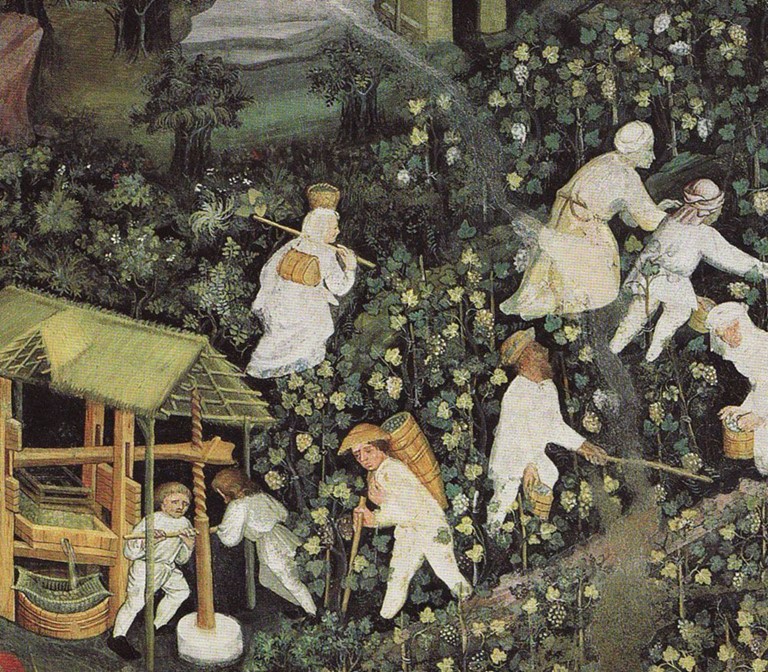 The sun is bright and shining over the Trentino valleys, and well-tended rows of vines cover the painted scene, touching the colourful mountains at the very top. Trentino was at the time a famous wine-producing territory, and Master Wenceslas presents extensive vineyards, their branches heavy with grapes, ready to be harvested. Everyone must work hard… everywhere you look, there is a zeal for activity.
The first thing you notice are the Trentino peasants, men and women, all dressed in white robes assigned to different harvesting tasks. Some of them pick up clusters of white or red grapes while others carry them on their shoulders in large baskets. On the left side of the composition, a screw-press is in action. What a luxury! Only gentlemen of great wealth could afford such an item, let alone a screw-press large enough to require at least two people to operate it. Master Wenceslas was apparently quite familiar with pastoral activities like that because he renders the process with fine precision! We can only assume that as a European travelling artist, Master Wenceslas had acquired first-hand experiences and visions of such joyful harvest events… where… aristocrats and farmers can, for once, forget the worries of everyday life, and "work" together enjoying the small pleasures of life.
For a Student Activity, please… Check HERE!