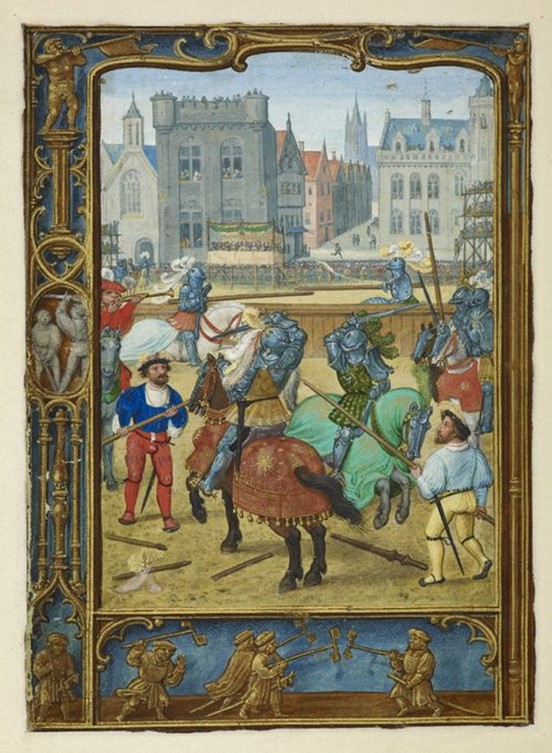 Simon Bening's June presentation is part of an amazing, illuminated manuscript of the 16th century. It presents the quintessential games of chivalry… and I think of Gauvain Micaille, the gallant Frenchman squire from Beauce, a gentleman of tried courage, who had advanced himself by his own merit, without any assistance from others… Is there among you any gentleman who for the love of his lady is willing to try with me some feat of arms? He questions… If there should be any such, here I am, quite ready to sally forth completely armed and mounted, to tilt three courses with the lance, to give three blows with the battle-ax, and three strokes with the dagger. Now look, you English, if there be none among you in love… he continues, and he jousts for the honour of France showing his courage and bravery… an extraordinary man, a wonderful story, and a brilliant manuscript illumination by Simon Bening! https://uts.nipissingu.ca/muhlberger/FROISSART/GAUVAIN.HTM
Unhorse Your Foe! people cried… and off "they" went to "battle." "They" were armored knights striding armored horses who tested their skills in mock combats, called "tournaments." These games were a way for them to practice for battle in between wars, and display their talents in front of a broad audience… writes Rachel Smith, of the MET in New York. The June page of the Book of Golf (f. 23v) displays a perfect tournament day in a Flemish city. https://www.metmuseum.org/blogs/metkids/2019/knights-tournaments-medieval-europe and https://www.moleiro.com/en/books-of-hours/the-golf-book-book-of-hours/miniatura/161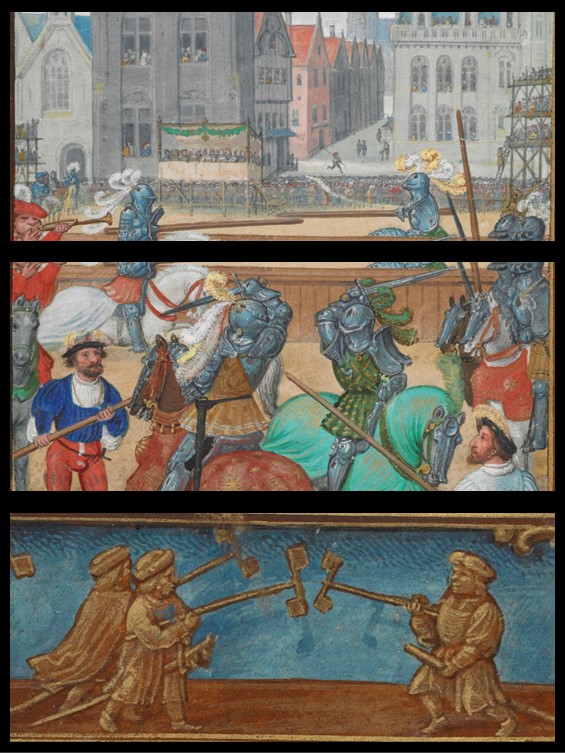 Simon Bening, combining cool, greys and blues, and warm tones of ochre and red, organized a "busy" three-parts composition. The background presents a Flemish city with impressive buildings and the tournament audience, in great numbers, enthusiastically looking at the event through windows, standing behind parapets, seated on tall parapets, or sitting in the "royal box." They seem to be finely dressed and adorned with elaborate headdresses, talking to each other, full of excitement… maybe contemplating, even debating whom they are going to favor!
The Knights, fully armored and crowned with striking plumes are depicted riding their equally remarkably armored horses. They "fight" for victory. Their goal is to show gallantry and honour… their hope is to attract the attention of "their" Lady and get a token of her favor… a veil, a ribbon, maybe a wreath!
The "busiest" part is definitely the foreground of Bening's composition. Attended by their servants are two knights on their mounts attempting to strike the other down with their swords. Their broken lances lie on the ground. A mounted herald on the left sounds a small trumpet, whilst two armed riders on the right wait their turn to fight. https://www.moleiro.com/en/books-of-hours/the-golf-book-book-of-hours/miniatura/161
The middle ground area of June's composition is where Jousting takes place. Simon Benning depicts two knights on either side of a palisade, ready for the tournament "game" to commence! They wear a full-length armor made of thin, sliding steel plates, over a velvet garment, a helmet, finished with plumes, and carry their battling lance. According to the Wikipedia… Jousting is a martial game or hastilude between two horsemen wielding lances with blunted tips, often as part of a tournament. The primary aim was to replicate a clash of heavy cavalry, with each participant trying hard to strike the opponent while riding towards him at high speed, breaking the lance on the opponent's shield or jousting armor if possible, or unhorsing him. The joust became an iconic characteristic of the knight in Romantic medievalism. The participants experience close to three and a quarter times their body weight in G-forces when the lances collide with their armor." https://en.wikipedia.org/wiki/Jousting#CITEREFColtman1919
For a PowerPoint on the Golf Book, please… Check HERE!
For information on the art of the armorer, and how arms and armor, are pivotal not only in conquest and defense but also in court pageantry and ceremonial events like tournaments… Check the Metropolitan Museum site… https://www.metmuseum.org/about-the-met/collection-areas/arms-and-armor