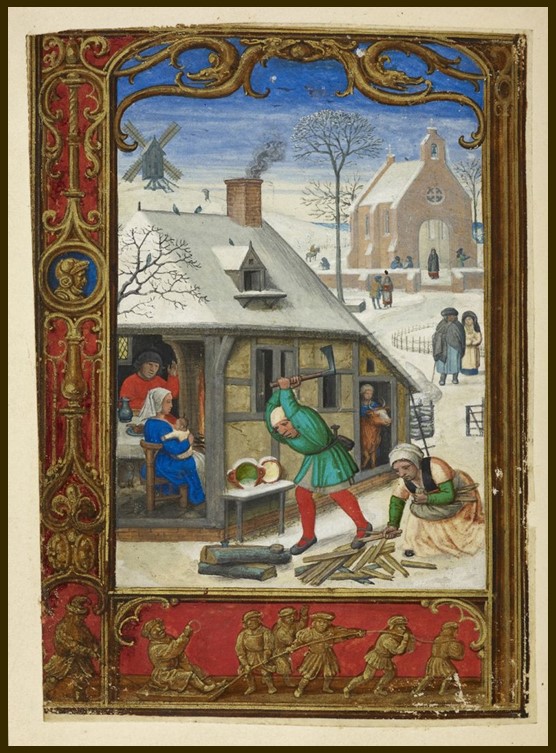 It's the 1st of January 2022… It is time to start a new Calendar Presentation… and Wish you ALL a Happy New Year, Health, Love, and Prosperity!!! Let's start the Year with Simon Bening's January, our new BLOG POST.
My search for the perfect Calendar for the new year is a long process, and starts during summer! I want each "Calendar under Focus" to embrace and present every month in a comprehensive way… to make me wonder how effectual it can be. I search for information on the artist who created it and the patron who commissioned it. I want to explore and present you with Calendars of different mediums… For example, the 2000 Calendar presentation was on the Maestro Venceslao Fresco Calendar in Torre Aquila, Castello del Buonconsiglio in Trento, Italy. In 2021 I focused on a Venetian Set of Doors presenting the Twelve Months created by an anonymous Venetian artist in the National Gallery in London. This year it is time to turn to an Illuminated Manuscript, a medium I love, and present you a 16th century famous Book of Hours with an interesting name… the Golf Book! https://www.teachercurator.com/art/the-month-of-january/ and https://www.teachercurator.com/art/the-labours-of-the-months-february/ and http://searcharchives.bl.uk/primo_library/libweb/action/dlDisplay.do?docId=IAMS032-002031376&fn=permalink&vid=IAMS_VU2
Some of the greatest paintings and drawings of the late Middle Ages and the Renaissance, according to Wendy A. Stein, are not displayed on church and museum walls; instead, they shine forth from the pages… of very special illuminated manuscripts known as Books of Hours. Thousands of Books of Hours made between 1250 and 1700 survive today in libraries and museums, a testament to their popularity in their heyday, especially in northern Europe. They were functional prayer books made for the nonordained, and the paintings in them were intended to foster reflection and devotion. Each Book of Hours was unique, serving the spiritual needs of its patron. Book of Hours were devotional books containing prayers to be recited at set times of the day. By the 15th century, the norm was to contain the Hours of the Virgin, a Calendar, a set of Gospel lessons, Hours focusing on the Cross, a group of Psalms, and prayers to saints called Suffrages. It is interesting how most Books of Hours begin with a Calendar, to help the owner keep track of saints' days and other feasts. Each month gets a page with listed days, holy days are often written in red (the origin of the term "red letter day"), and significant feast days are written in gold letters. https://www.metmuseum.org/toah/hd/hour/hd_hour.htm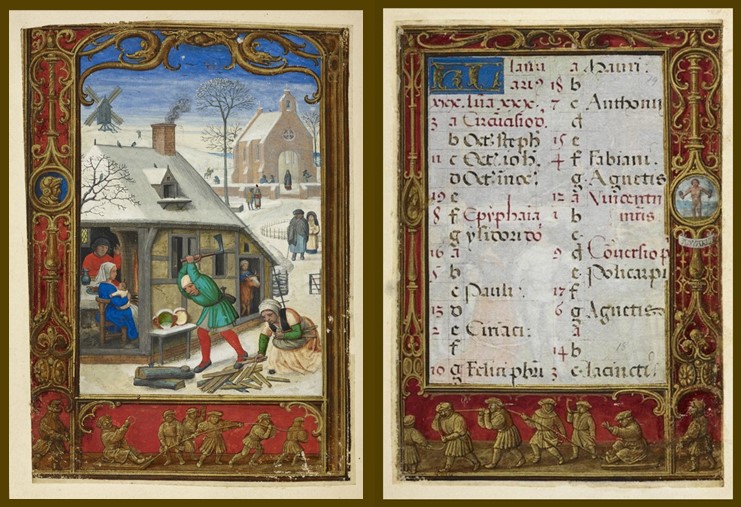 The 16th century Book of Hours, known as the Golf Book, is a very unique and special manuscript in the Collection of the British Library. Unfortunately, the Golf Book is not, in its present state, a complete manuscript as most of the text is now missing. Thirty parchment leaves, however, remain, twenty-one pages of which, are full-page miniatures, in colours and gold, surrounded by a historiated border (12 pages are part of the Calendar section). The remaining forty pages feature historiated borders as well, that incorporate medallions, architectonic decoration, and cameos in grisaille and semi-grisaille. The text pages present large and small initials and line-fillers, in colours and gold. Simon Bening (d. 1561), with the assistance of his workshop, was the artist from Bruges responsible for this amazing manuscript. Bening's accomplishments will feature in the Month of February Presentation. http://searcharchives.bl.uk/primo_library/libweb/action/dlDisplay.do?docId=IAMS032-002031376&fn=permalink&vid=IAMS_VU2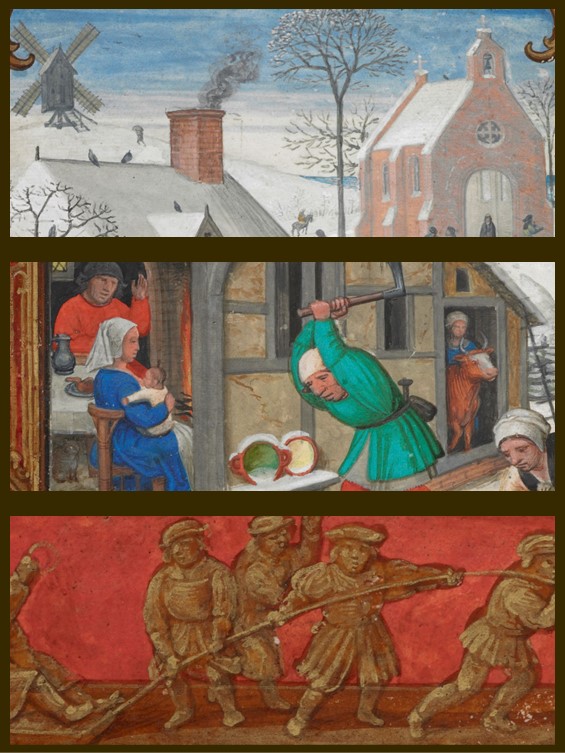 The miniatures for the Month of January (ff. 18v-19r) cover two pages facing each other. Folio18v is a full-page miniature of a winter landscape with peasants busy with their chores or simply relaxing, and enjoying the pleasures of a cold, snowy day. The protagonists of the composition are the couple in the foreground chopping and collecting wood. Next comes the couple inside the house behind them – one wall of which is conveniently missing to show the indoor scene. The room, showing signs of certain wealth, is warm and cozy with a linen-covered table, set with food and drink – the fruits of their hard work. The Lady of the house is breastfeeding her baby in front of a raging fire, the Lord of the house is relaxing… talking to her, I want to imagine, planning their family future! A busy landscape completes the composition… a windmill on a promontory with a peasant carrying his load towards it,  a church with a person coming out of it, and other people talking or simply strolling about wrapped up in capes or warm clothes to protect themselves from the cold. Several bare trees with snow-lined branches, birds resting on the roof-top, a smoking chimney, and a clear, blue sky, complete the full-page composition. The historiated borders of both folios presenting to the Month of January (ff 18v and 19r) include depictions, in cameo fashion, of children or youths pulling sleds. What an amazing scene Simon Bening's January is! https://www.moleiro.com/en/books-of-hours/the-golf-book-book-of-hours/miniatura/156
For a PowerPoint on the  Golf Book, please… Check HERE!
For a Student Activity on Simon Bening's January page, please… Check HERE!