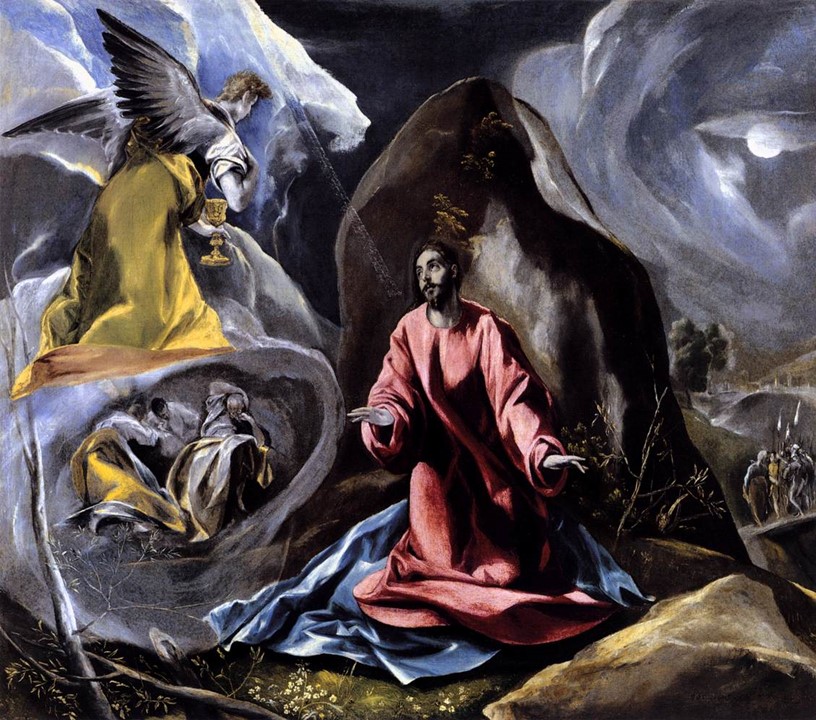 Jesus went out as usual to the Mount of Olives, and his disciples followed him. On reaching the place, he said to them, "Pray that you will not fall into temptation."  He withdrew about a stone's throw beyond them, knelt down and prayed, "Father, if you are willing, take this cup from me; yet not my will, but yours be done." An angel from heaven appeared to him and strengthened him. 44 And being in anguish, he prayed more earnestly, and his sweat was like drops of blood falling to the ground. When he rose from prayer and went back to the disciples, he found them asleep, exhausted from sorrow. "Why are you sleeping?" he asked them. "Get up and pray so that you will not fall into temptation." (Luke 22:39-46 Holy Thursday – Μεγάλη Πέμπτη) https://www.biblegateway.com/passage/?search=Luke%2022&version=NIV
Domenikos Theotokopoulos was a Cretan Greek, born at Handaka-Candia, present-day Herakleion, part, at the time, of the thriving Republic of Venice. He was young, talented, and ambitious, well-versed in the Creto-Byzantine style of painting, and eager to establish himself among the greatest of his time! By 1567/8 Theotokopoulos traveled to Venice, by 1570, he was in Rome, by 1576 he relocated to Spain, and in 1577 the artist settled in Toledo where he found his spiritual home and remained for the rest of his life. He died on the 7th of April 1614, admired for his unique fluid style, temperamental character, and humanist education. One of his friends and admirers, Hortensio Félix Paravicino y Arteaga (1580-1633) the Spanish poet, preacher, and a member of the Trinitarian Order, wrote for the artist "O Greek divine! We wonder not that in thy works / The imagery surpasses actual being." Paravicino also wrote, foreseeing Theotokopoulos's legacy "Future generations will admire his strange genius, but for centuries he will not be imitated." http://www.nccsc.net/essays/spanish-style 
The Agony in the Garden is a mature El Greco painting circa 1590, created in Toledo. The artist, known for his unique style that combined elements of Renaissance and Byzantine art, depicts the biblical scene of Jesus' agony (in Greek, agonia, "agony") in the Garden of Gethsemane, located on the Mount of Olives outside Jerusalem before his arrest and crucifixion. Christ prays to God for strength and comfort. He is depicted as a tall and slender figure, surrounded by his disciples who are asleep. He is shown with his head raised to heaven, as he prays in a state of intense emotion and expressive distress. El Greco gives visual form to Matthew 26:42, My Father, if it is not possible for this cup to be taken away unless I drink it, may your will be done. http://emuseum.toledomuseum.org/objects/54729/the-agony-in-the-garden
My thoughts on why this is a very 'special,' one of my favourites, Theotokopoulos paintings:
The composition is unique! El Greco's figures and landscape are isolated in individual pockets of ambiguous, shallow space. There are four such areas, the sleeping disciples, the imposing Angel to the left, the approaching Roman soldiers to the right, and Christ in the middle, depicted kneeling, praying… in agony. The contrast between the individual pockets of shallow space creates a sense of emotional tension, with Jesus in a state of intense distress and the disciples in peaceful slumber. http://emuseum.toledomuseum.org/objects/54729/the-agony-in-the-garden
El Greco's use of light and color is one of the most distinctive features of his work. In The Agony in the Garden, the intense light source illuminates Jesus and creates a strong contrast with the dark background, emphasizing his centrality and importance. The use of warm, golden tones adds to the emotional impact of the scene.
The figures in the painting are depicted with elongated forms, a hallmark of El Greco's style. The two larger figures in the composition, Christ in the middle and the Angel of Compassion and Consolation to the left, facing each other, contribute to the emotional and spiritual intensity of the scene and highlight the dramatic nature of Jesus' anguish.
The Agony in the Garden is considered one of El Greco's most important works and is considered a masterpiece of Spanish Renaissance art. It is widely regarded as one of the most powerful and expressive religious paintings of the period and continues to be widely admired and studied by art enthusiasts and scholars today.
For a Student Activity on Holy Thursday – Μεγάλη Πέμπτη, please… Check HERE!