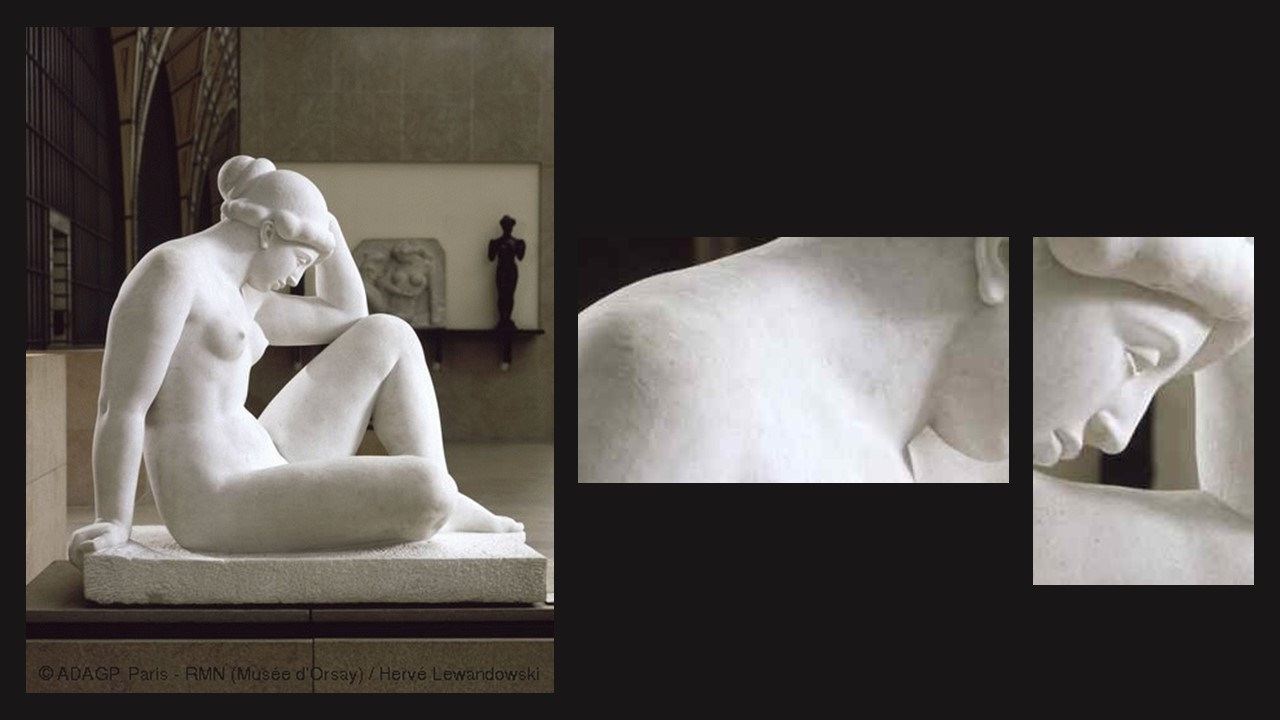 I like what Aristide Maillol said or wrote about Art! To his biographer, for example, Judith Cladel (1939 – 1944) he remarked "I seek beauty, not character. For me portraiture and statuary are completely opposed to each other."He is also quoted saying "I make [figures] in which I try to give an impression of the whole…" and "A [figure] interests me when I can bring architecture out of it." Can I do justice to what he said in my new POST on Aristide Maillol and La Méditerranée? This is my wish…https://en.wikiquote.org/wiki/Aristide_Maillol
"At the beginning of the twentieth century, as he turned from a career as a painter and a graphic and tapestry designer to concentrate on sculpture, Aristide Maillol was shaping what would become the leitmotif of his career. The subject that inspired him was the female nude, carefully observed but transmuted by underlying geometric forms into a kind of architecture, evoking the timeless rather than the individual. Without losing sight of nature, Maillol strove for simplicity, balance, and serenity in composing his beloved type of full-bodied, youthful beauty." This is how Alison Luchs describes Aristide's Maillol's first steps to sculpture and I have nothing else to add! Every summer as I lay on the Aegean shores, enjoying the golden sun and the blue of the sky… as I feel the freshness of the sea breeze on my skin, I think of Maillol's La Méditerranée, his vision on female beauty, and enjoy definitive summer bliss! https://www.nga.gov/collection/art-object-page.93096.html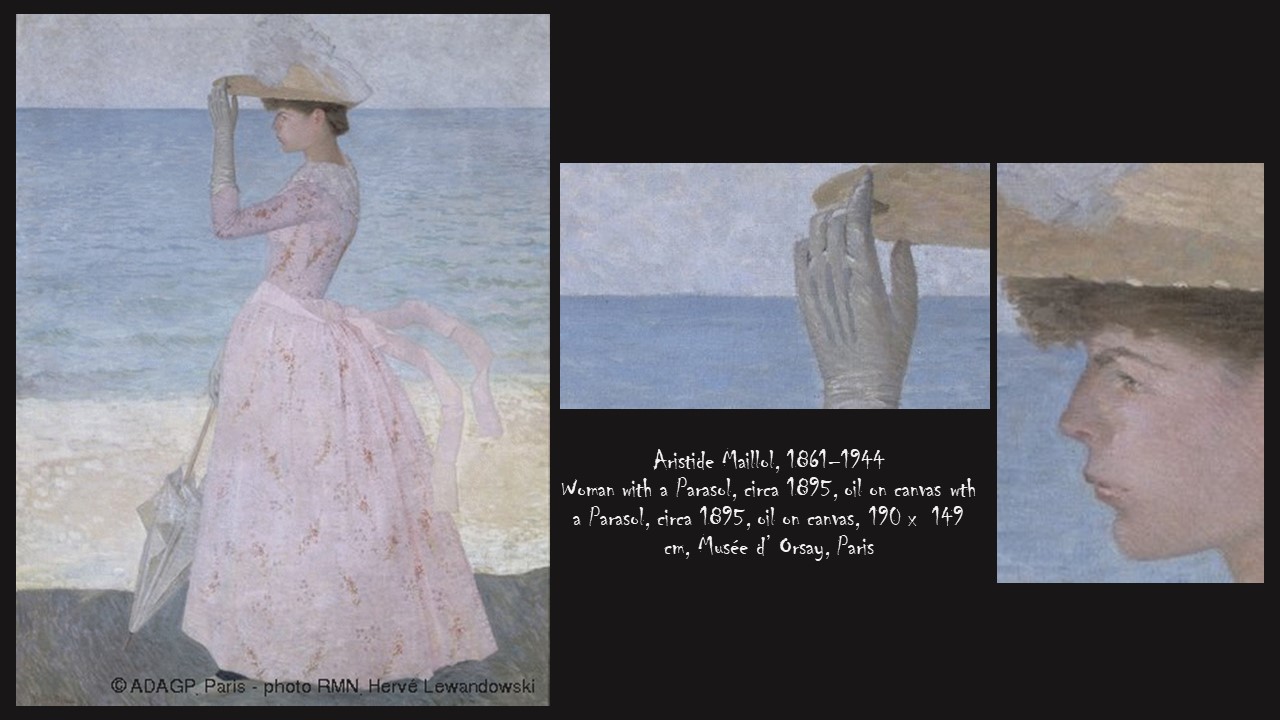 Aristide Maillol is a French artist who started as a painter, matured artistically as a tapestry designer and finally reached international fame as a sculptor. Born on December 8, 1861, in Banyuls-sur-Mer, a small town located in the south of France in the department of Pyrénées-Orientales of the French region Languedoc-Roussillon, Maillol is today famous for his unique statues of monumental female nudes that closely resemble the statues of Greek Classical antiquity. It all started in 1881, when Maillol, a young man of twenty, moved to Paris to study art and become a painter. It was a tough decision he took, but four years of dire struggle later, he was accepted in the École des Beaux-Arts to study art under Jean-Léon Gérôme and Alexandre Cabanel. Interested in the avant-garde of the time, Maillol befriended Paul Gauguin who encouraged him to pursue his growing interest in decorative art, and specifically to take up tapestry design. In 1893 he opened a tapestry workshop in his hometown producing tapestries of the highest technical and aesthetic quality, so much so that he is considered today as the man responsible for reviving this old art form in France. In 1895 his experimentation with sculpture began, a new passion flourished and the rest is history… http://www.artnet.com/artists/aristide-maillol/ and https://en.wikipedia.org/wiki/Aristide_Maillol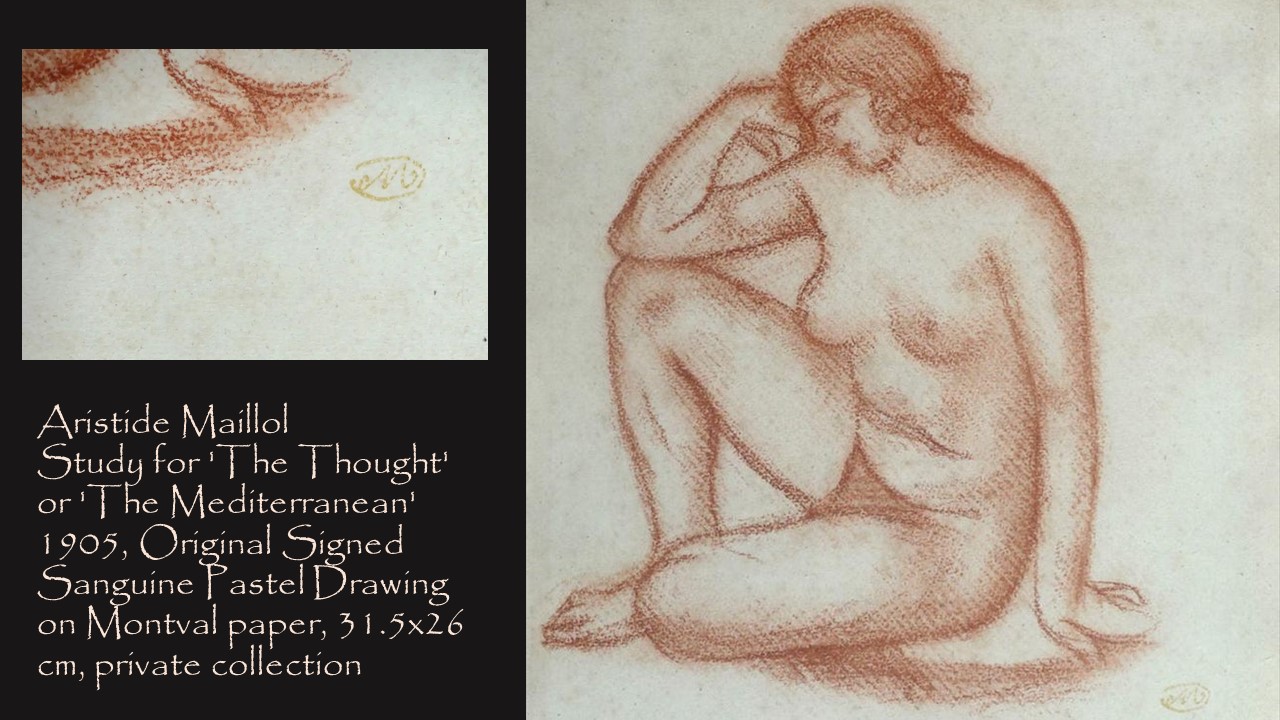 It took Maillol five years, a creative process that started in 1900 and culminated in 1905, to finalize his first major success as a sculptor. La Méditerranée is the "image of a woman seated on the ground, her head bent forward, one leg at rest on the earth with the foot crossing under the archway formed by the opposite raised knee." A series of drawings, small clay or larger statuettes in plaster, were among his first attempts, until in 1905, the "final plaster version, 110 centimetres high and called simply Woman, appeared in the center of a room at the Salon d' Automne in Paris." It caused a sensation and Maillol's friend André Gide wrote that Maillol's Woman "is beautiful, she means nothing; it is a silent work. I believe one must go far back in time to find such complete neglect of any preoccupation beyond the simple manifestation of beauty."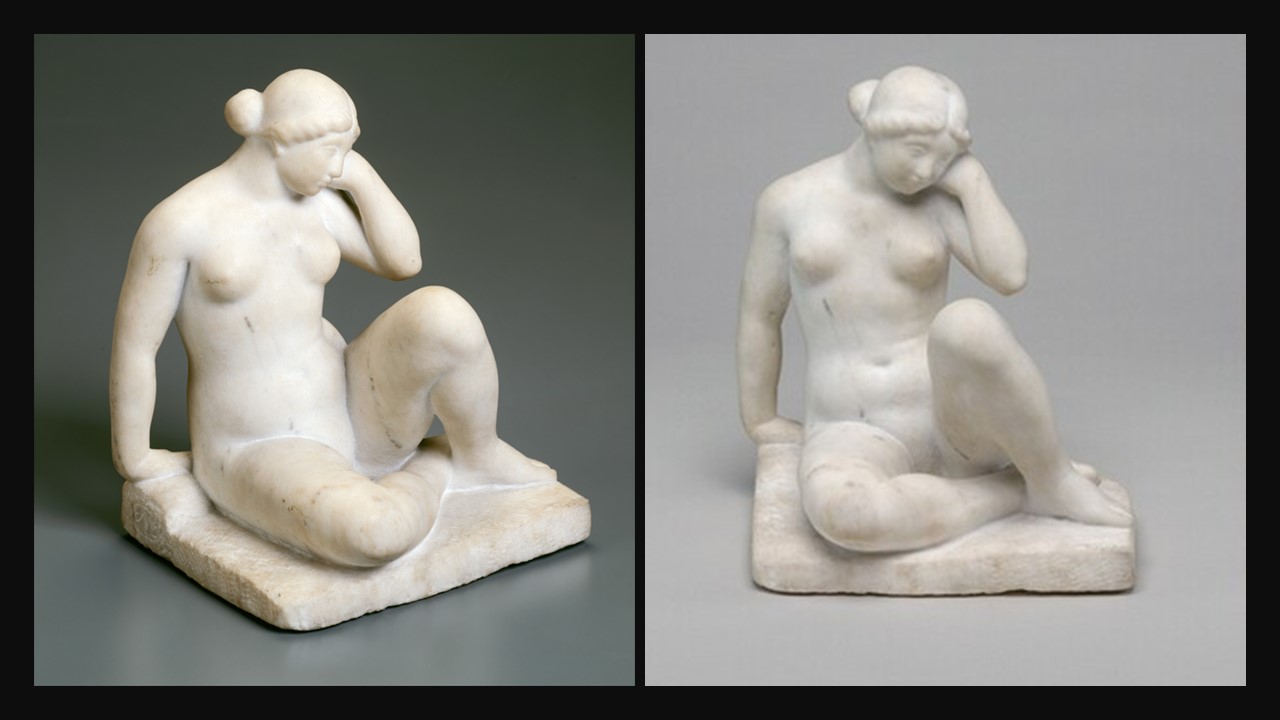 As popular as it became, Aristide Maillol was asked to create many versions of his original La Méditerranée plaster statue and he did! His greatest patron, the German count Harry Kessler, commissioned a full-sized stone version, now at Winterthur, Oskar Reinhart Collection, and the French state commissioned a marble statue of La Méditerranée in 1923 that is now exhibited in the Musée d'Orsay, in Paris. The artist created bronzes of the statue as well cast from the exhibited plaster, exhibited today in the Jardin du Carrousel, in Paris and The Museum of Modern Art in New York. A smaller version in marble, now in the National Gallery in Washington DC, equally enchanting, differs from the large versions in the way the artist placed the woman's left hand closer to her cheek than to the top of her head.
The Woman was baptized La Méditerranée in the early 1920s with Aristide Maillol saying "I had thought of calling her Young Girl in the Sun; then, on a day of beautiful light, she appeared to me so alive, so radiant in her natural atmosphere that I baptised her Mediterranean. Not The Mediterranean, a sea that we know well. That's not what I was after. My idea in sculpting her Mediterranean spirit? That's why I chose her name and why I want her to keep it."
"Does she not incarnate the land of light, the region of radiant intelligence, the Greco-Roman zone where she had her birth and the ancient race that populates its shores?" Wrote the critic Judith Cladel.
Valuable information was drawn from https://www.nga.gov/collection/art-object-page.93096.html and https://www.musee-orsay.fr/en/collections/works-in-focus/search/commentaire_id/the-mediterranean-3182.html
For a Student Activity, please…check HERE!