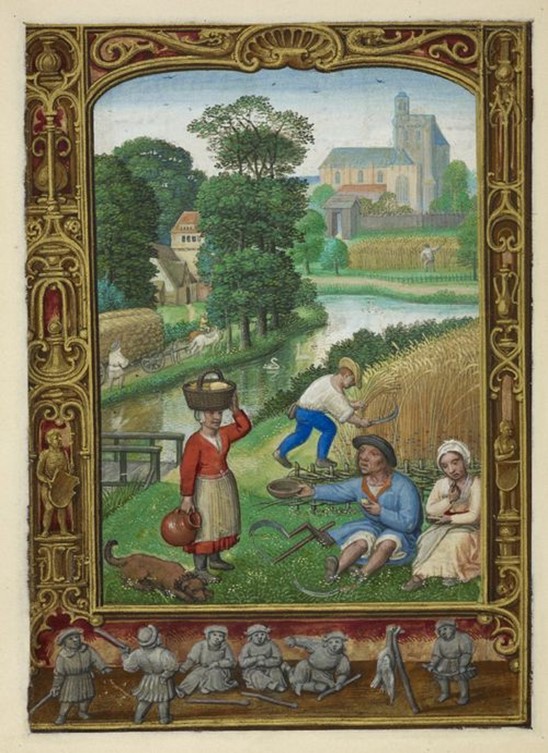 Like liquid gold the wheat field lies, / A marvel of yellow and russet and green, / That ripples and runs, that floats and flies, / With the subtle shadows, the change, the sheen… writes American poet Hannibal Hamlin Garland, and Simon Bening's August scene comes to my mind… a scene of wheat fields like liquid gold and green countryside full of subtle shadows, change, and sheen… https://sites.google.com/site/rainydaypoems/poems-for-kids/poems-teachers-ask-for/color-in-the-wheat-by-hamlin-garland
Simon Bening is a master manuscript illuminator. Hailed by Portuguese art critic and artist, Francisco da Hollanda as the greatest master of illumination in all of Europe, Simon Bening was one of the most celebrated painters of Flanders in the 1500s. He served powerful aristocrats and worked for a group of international royal patrons including Emperor Charles V and Don Fernando, the Infante of Portugal. He is famous for creating some of the finest illuminated Books of Hours in the history of art. His specialty was painting, in the Flemish tradition, poetic landscape vistas… just like the August scene in the famous Golf Book! https://www.getty.edu/art/collection/person/103JTN
The Month of August full-page miniature (f. 25v) is dedicated to distinct aspects of peasant occupations in the month of August. It is divided into three parts, the lower right one, leading the composition. Prominently posed, a pair of field hands are taking a break, their tools of labor lying on the ground, happily munching on some kind of food… waiting for more! A young woman is approaching them with a basket of more food balancing on top of her head, and a heavy, large carafe of a beverage held by her right hand. Behind a low fence made of wicker canes woven around stakes driven into the ground, a second peasant is still working hard in the field… bent, scythe in hand, cutting wheat.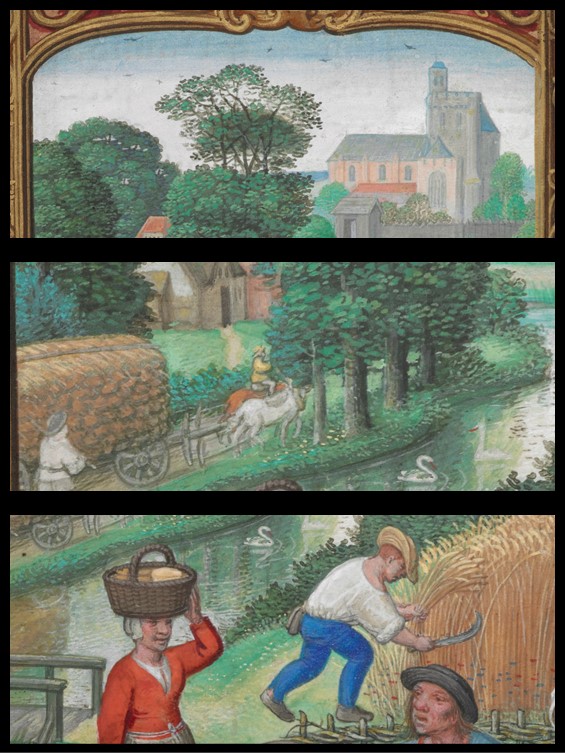 The left part of the composition is my favorite! Separated by a canal or river with swimming swans and a small bridge, Bening painted a country path along a hedged country estate of lush greenery. This is what the artist was famous for… images of unique landscapes in delicate brushwork and an extravaganza of green tints and shades. Never to forget that this is a composition dedicated to harvesting, Bening painted a path with a horse-drawn cart loaded with sheaves of straw going along it. https://www.moleiro.com/en/books-of-hours/the-golf-book-book-of-hours/miniatura/500e65cc826a5
The third, back part of Bening's August page, is fully dedicated to Bening's August theme… harvest, and the lush countryside. A fortress-like, gated area, equally plush and verdant, with an impressive church to the right, dominates the scene. In front of it, was another field of yellow, willowy wheat, and a peasant hard in harvesting. In the very distant, blue cloudless skies… the majesty of nature at its best…
For a PowerPoint on the Golf Book, please… Check HERE!
For a Student Activity on Simon Bening's July page, please… Check HERE!