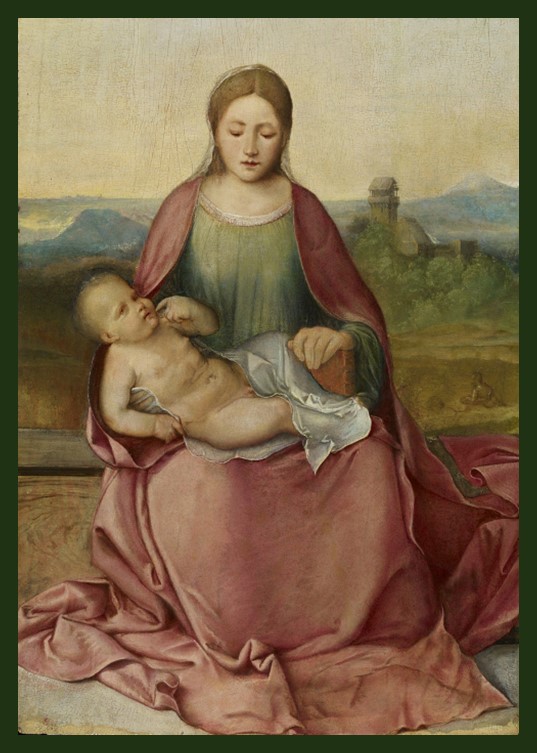 While in Paris, visiting the Exhibition GIOVANNI BELLINI Influences croisées (March 3 to July 17, 2023) at the Jacquemart-André Museum, I came upon a painting, Giorgone's Madonna Cook, I did not know. The painting made an entirely unexpected impression on me. It is part of a private collection, on deposit at the Gemäldegalerie, in Berlin, and however hard I searched (on the Internet), little did I find. https://www.musee-jacquemart-andre.com/en/giovanni-bellini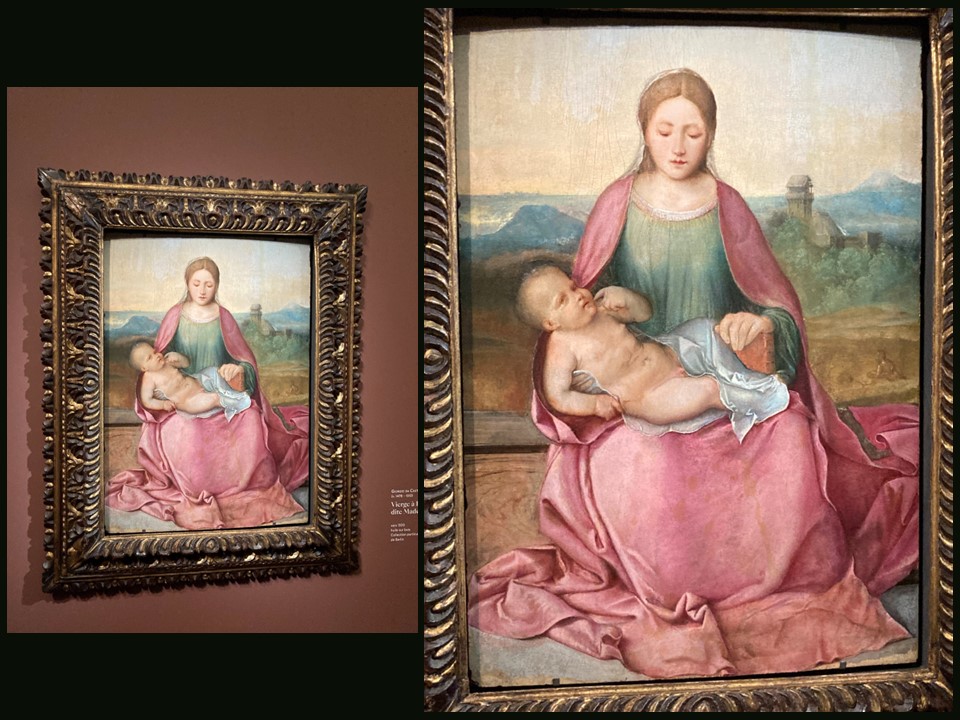 Giorgio Barbarelli, universally known as Giorgione (Castelfranco Veneto, 1478-Venezia, 1510), is one of the most enigmatic painters of the Renaissance. Very little is known about Giorgione's early life and training, but he is believed to have studied, along with Titian, with the Venetian painter Giovanni Bellini, who was a prominent figure in the Renaissance art scene. Unfortunately, Giorgione's life and career were cut short by his premature death at the age of 33, probably from the plague. Despite his short career, he had a significant influence on the development of the Venetian school of painting, and his legacy continues to inspire and intrigue art lovers and scholars to this day.
A major innovator, Giorgione is acclaimed as the father of modern Venetian painting of the 16th century. As a student of Giovanni Bellini, Giorgione's style in painting was characterized by his use of atmospheric effects, delicate modeling, and a subdued color palette. Influenced by Leonardo, the young Venetian artist is also known for his mastery of sfumato, a technique in which colours are blended together in such a way that they appear to merge seamlessly, creating a soft, hazy effect. Finally, paintings by Flemish artists motivated Giorgone to further explore the application of multiple thin layers of paint, so as to give a new dimension to light and colour. https://archive.org/details/giorgionemytheni0000unse/page/n3/mode/2up
What I find appealing is how Giorgone often painted landscapes or cityscapes as backdrops to his compositions, using them to create a sense of depth and space. The landscape scene in his Virgin and Child called Madonna Cook exhibited at the Jacquemart-André, caught my attention. It looks sparse and unfinished(?), yet a tower, a 'leitmotiv' in his landscape repertoire, is prominently displayed.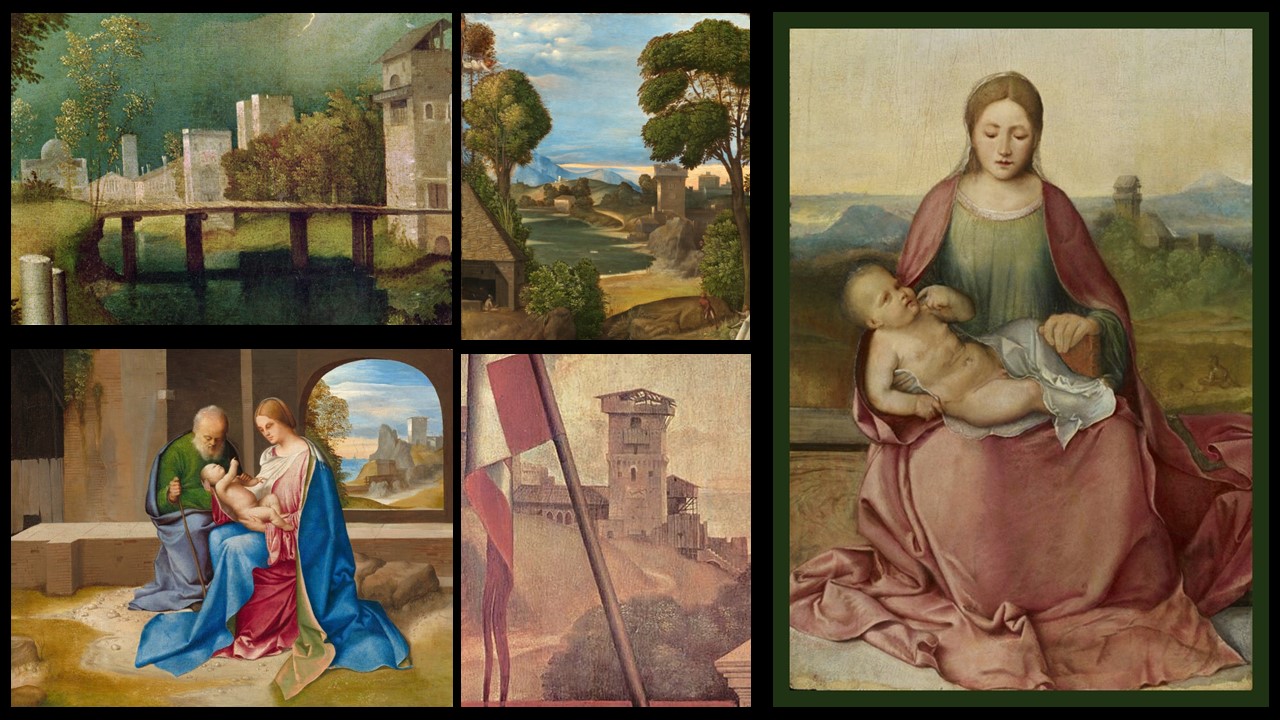 Legend has it that Giorgone was not just a handsome, amorous man, and an innovative painter, but a talented musician who, as Vasari wrote, "sang divinely" and played the lute. He was also likely a large man, as Giorgione translates to "Big George." For today's BLOG POST allow me to quote and remember Giorgio Vasari who describes the life and artistic achievements of the famous Venetian. The first paragraph of Vasari's presentation to Giorgione is a small compensation for the little information I can provide for the so-called Madonna Cook. https://www.artsy.net/article/artsy-editorial-four-paintings-renaissance-master-changed-course-art and http://www.travelingintuscany.com/art/gutenberg/vasarilives4.htm#Page_107
At the same time when Florence was acquiring such fame by reason of the works of Leonardo, no little adornment was conferred on Venice by the talent and excellence of one of her citizens, who surpassed by a great measure not only the Bellini, whom the Venetians held in such esteem, but also every other master who had painted up to that time in that city. This was Giorgio, who was born at Castelfranco in the territory of Treviso, in the year 1478, when the Doge was Giovanni Mozzenigo, brother of Doge Piero. In time, from the nature of his person and from the greatness of his mind, Giorgio came to be called Giorgione; and although he was born from very humble stock, nevertheless he was not otherwise than gentle and of good breeding throughout his whole life. He was brought up in Venice, and took unceasing delight in the joys of love; and the sound of the lute gave him marvellous pleasure, so that in his day he played and sang so divinely that he was often employed for that purpose at various musical assemblies and gatherings of noble persons. He studied drawing, and found it greatly to his taste; and in this nature favoured him so highly, that he, having become enamoured of her beauties, would never represent anything in his works without copying it from life; and so much was he her slave, imitating her continuously, that he acquired the name not only of having surpassed Giovanni and Gentile Bellini, but also of being the rival of the masters who were working in Tuscany and who were the creators of the modern manner. Giorgione had seen some things by the hand of Leonardo with a beautiful gradation of colours, and with extraordinary relief, effected, as has been related, by means of dark shadows; and this manner pleased him so much [Pg 110] that he was forever studying it as long as he lived, and in oil-painting he imitated it greatly. Taking pleasure in the delights of good work, he was ever selecting, for putting into his pictures, the greatest beauty and the greatest variety that he could find. And nature gave him a spirit so benign, and with this, both in oil-painting and in fresco, he made certain living forms and other things so soft, so well harmonized, and so well blended in the shadows, that many of the excellent masters of his time were forced to confess that he had been born to infuse spirit into figures and to counterfeit the freshness of living flesh better than any other painter, not only in Venice, but throughout the whole world… http://www.travelingintuscany.com/art/gutenberg/vasarilives4.htm#Page_107
For a Student Activity, inspired by Giorgone's Madonna Cook, please… Check HERE!